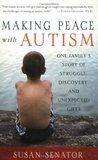 Making Peace with Autism: One Family's Story of Struggle, Discovery, and Unexpected Gifts by Susan Senator
My rating: 5 of 5 stars
Making peace with autism was an important read for me. As an Autism mom I felt a strong connection with the author, and her journey. From denial to acceptance. The uncompromising, fierce wish for making our family work and giving our children the best possible foundation for a happy adulthood. It helps that her writing is passionate, strong, yet sober – considering what is at stake. What a good pen! I am thoroughly impressed, and can see that her blog has the same intensity – highly recommended. With regards to content, I found myself disagreeing with some of the strategies the author employed. But as the author reveals what she learnt from the different approaches, and how she had changed her mind and developed a deeper understanding of her son, herself, her husband…of life itself – I discovered that we shared much more than I thought. We are muddling thru. We are trying. And as long as we are trying, we are moving. We are keeping our spirits from stagnating. We are empowering ourselves, and giving our life meaning. If I should mention a thing I missed, is how her fight affected the author not as a mother, but as professional, as a friend, as a sister, as a neighbour. Perhaps its the correct strategy to focus on family life – however in my current circumstances I could have enjoyed some reflections on identity issues. Not that the author doesn't touch upon them – but perhaps its a case of more wanting more. All in all, a book that I could relate to, which moved me, which I learnt to respect, and one that I will be reading again.